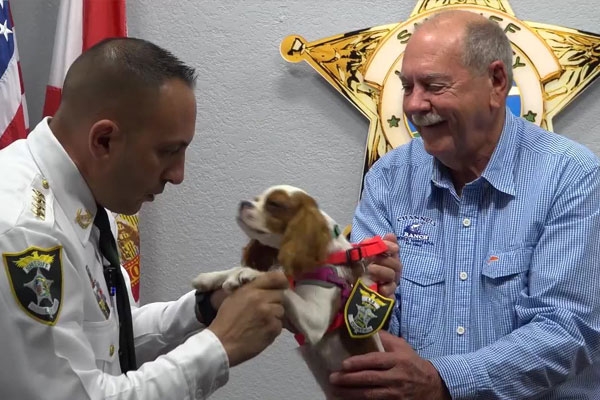 (Image source from: heraldsun.com.au)
The video of a four month old dog being attacked by an alligator has been viral on the internet for a couple of weeks. In the viral video, the dog was being attacked by an alligator in Lee Country, Florida. The dog's owner, Richard Wilbanks, jumped into the pond and fought off the alligator, allowing the dog, Gunner to escape.
A Florida sheriff office honored a for month old dog it says showed the tenacity to be worthy of a deputy dog.
The duo was going for a stroll in the park when Gunner apparently started screaming. When Wilbanks turned around he saw an alligator trying to drag him into the water. The owner immediately pinned down the alligator and pried his jaws open, setting the puppy free.
This sensational story has led the Lee County Sheriff Carmine Marceno to honor Gunner.
Marceno bestowed Gunner with his badge a week after his alligator escape.
By Meena Atmakuri