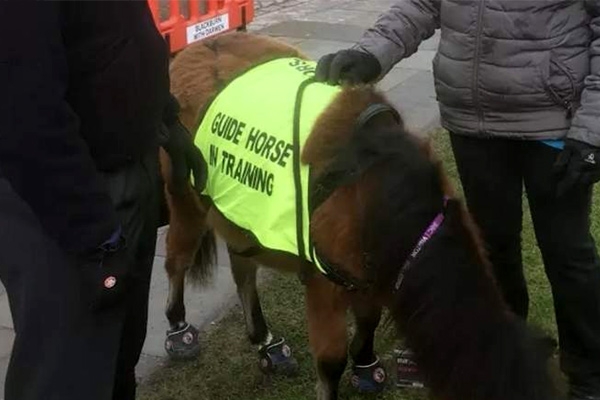 (Image source from: Khaleej Times)
An Indian-origin man based in north-west England, who suffers from a degenerative eye condition, is set to become the first person in the United Kingdom to acquire a guide horse to assist him with day-to-day tasks once he loses his imagination completely.
Mohammed Salim Patel, 24, a journalist based in Blackburn at Lancashire, suffers from a condition called Retinitis Pigmentosa, due to which he is left with a very little amount of vision in his right eye and will sooner or later turn totally blind.
The thought of a miniature guide horse came to his attention as he suffers from a deep-seated fear of dogs since a scary childhood encounter and could not rely on the more usually used guide dogs for the unsighted.
"Digby (guide horse) is still a baby and will be two years old in May 2019. His training will take around two more years," Patel said.
"Digby will be able to work into his 40s, whereas a guide dog has to retire at the age of eight," he said.
After spending some time with his companion-to-be, Patel believes a guide horse has numerous added benefits over guide dogs, even a much longer working life, 350-degree vision and ability to see in the dark. "Even if his training takes longer than two years, it doesn't matter too much as once he's trained, I will have decades with him as my assistant animal," Patel explained.
The tale of Digby caught the attention of the annual Amplifon Awards for Brave Britons, where the horse is amongst the finalists in the Hero Pet category - intended at honoring animals who have transformed the lives of their owners.
"It's very nice to have Digby recognized for his great work, despite still being in training. He is a star," said Patel, in reference to the awards.
The journalist works with the BBC North West Tonight Television after completing a Journalism Trainee Scheme.
By Sowmya Sangam