Kailash Manasarovar Yatra: Two Indian Pilgrims Dead, 1,500 Stranded in Nepal
July 04, 2018 12:25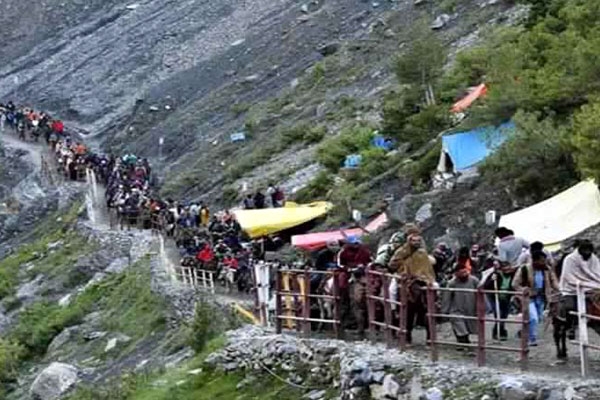 (Image source from: Newsato)
On way to Kailash Manasarovar Yatra, two Indian pilgrims have died while over 1,500 pilgrims are stranded in Nepal due to terrible weather condition.
India has requested Kathmandu to assist in moving the stranded. Indian officials said that from Simikot region over 100 Indian pilgrims were shifted and rescue work is being intensely taking place to bring back those stuck along the path to Kailash Mansarovar in China's Tibetan region.
According to Prime Minister Narendra Modi's regime, he was in impinging with the Ministry of External Affairs as well as else officials concerned and issued instructions to widen all possible assistance to the stranded Indians. 
External Affairs Minister Sushma Swaraj tweeted that 525 pilgrims are stranded in Simikot, 550 in Hilsa and another 500 are stuck on the Tibet side, adding that India has requested the Nepal authorities for Army helicopters to evacuate them.
"So far 104 pilgrims have been rescued… Seven commercial flights have so far been operated for the rescue work," officials said in New Delhi. The evacuated pilgrims were taken to Nepalganj, bordering India.
Nepal Police said two Indian pilgrims, Narayanam Leela, 56, of Kerala and Satya Laxmi of Andhra Pradesh have died.
Swaraj said the hotlines have been set up by India for pilgrims and their family members who will be rendered information in all regional languages.
"Indian Embassy in Nepal has deployed representatives in Nepalganj and Simikot. They are in touch with the pilgrims and ensuring that food and lodging facilities are available to all the pilgrims," she said.
The request has been made by Indian Embassy of Nepal to each tour operator to try and hold back pilgrims as far as attainable since the medical and civic facilities are lacking on Nepal side.
By Sowmya Sangam