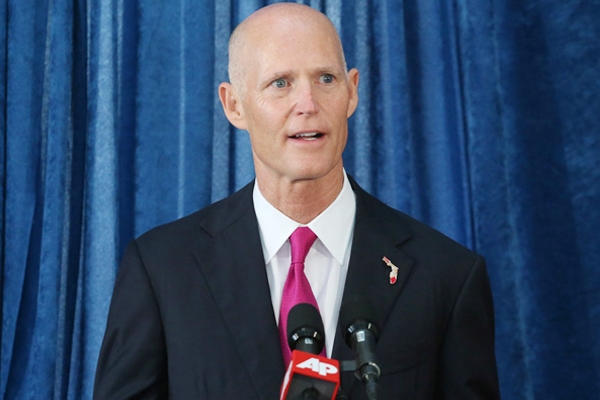 Governor Rick Scott is scheduled to leave on Sunday for Argentina for a trade mission, which is organized by the state's embattled economic development agency.
Scott delayed the trip by a day to monitor the wildfire conditions all across Florida, but he is also making the visit during a time when the parts of his agenda remain unresolved in the waning days of the 2017 session of the Florida Legislature.
One of the items, on which Scott is battling over is whether to keep intact Enterprise Florida, an agency that put together the trade mission.
House of Republicans are pushing to dismantle Enterprise Florida despite of the objections from both Scott and Senate leaders. Scott has strongly criticized the House leaders including the House Speaker Richard Corcoran over their proposal, contending that it cost the state jobs.
During his trip to Buenos Aires, Scott is expected to meet with the Argentina President Mauricio Macri and discuss the trade opportunities, said a spokesman for Scott.
Just like he has fought for jobs all session long, and has made his priority of job creation abundantly clear, Gov. Scott is going to Argentina to bring more jobs to Florida," McKinley Lewis said in a statement.
91 Wildfires Burn Across Florida
On Thursday, Scott is expected to return to Florida.
This is Scott's 13th trip to abroad since he became governor in the year 2011. Former Gov. Jeb Bush took 16 trade missions during his term of eight years in the office.
Previously, he traveled to the South American countries of Brazil, Colombia, Chile, as well as Japan, Israel, England, France, Spain, Canada and also Panama.
First lady Ann Scott is scheduled to join Scott on his trip to Argentina, airport and port officials as well as the top officials with several Florida-based corporations, including Eric Silagy, president and CEO of the Florida Power &Light, the state's largest utility company.
While Enterprise Florida's operations are primarily paid by the tax dollars, Scott's travel expenses are usually covered by the private donations to Enterprise Florida.
Mrudula Duddempudi.