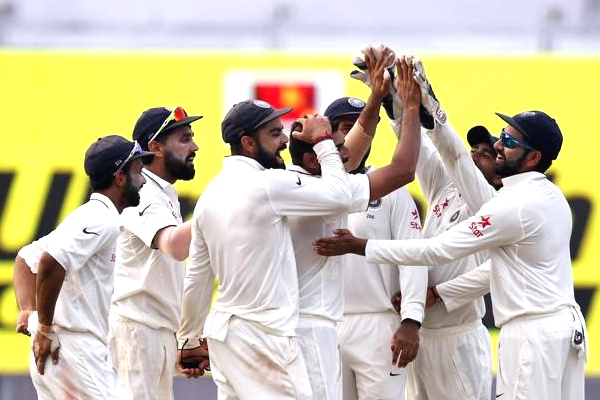 India beat New Zealand by 178 runs to win the second Test at Kolkata's Eden Gardens and claim a 2-0 series win. As a result, the hosts also replaced Pakistan as the World No. 1 Test team.
Mohammad Shami, Ravindra Jadeja and Ravichandran Ashwin took three wicket apiece and Bhuvneshwar Kumar took one wicket. New Zealand was all out for 197. The last seven New Zealand wickets fell for just 56 runs.
The victory in India's 250th Test match at home comes on the heels of the hosts winning their 500th Test match, thus taking an insurmountable lead in the three-match series.
 Also Read: India beat New Zealand by 197 runs in Kanpur Test, leads series by 1-0 - Nandini
New Zealand Second Innings
Runs
Mins
Balls
4s
6s
SR
Tom Latham
c Wriddhiman Saha b Ravichandran Ashwin
74
205
148
8
0
50
Martin Guptill
lbw Ravichandran Ashwin
24
69
49
3
0
48.98
Henry Nicholls
c Ajinkya Rahane b Ravindra Jadeja
24
72
66
2
0
36.36
Ross Taylor *
lbw Ravichandran Ashwin
4
26
28
0
0
14.29
Luke Ronchi
b Ravindra Jadeja
32
94
60
4
0
53.33
Mitchell Santner
lbw Mohammed Shami
9
20
20
2
0
45
BJ Watling †
b Mohammed Shami
1
9
8
0
0
12.5
Matt Henry
c Virat Kohli b Ravindra Jadeja
18
60
44
2
0
40.91
Jeetan Patel
b Bhuvneshwar Kumar
2
6
7
0
0
28.57
Neil Wagner
not out
5
49
43
0
0
11.63
Trent Boult
c Murali Vijay b Mohammed Shami
4
22
14
0
0
28.57
Extras (0nb 0w 0lb 0b)
 
 
 
Total 197 all out (81.1 overs)
Bowling
O
M
R
W
Econ
nb
w
Bhuvneshwar Kumar
12
4
28
1
2.33
0
0
Mohammed Shami
18.1
5
46
3
2.53
0
0
Ravichandran Ashwin
31
6
82
3
2.65
0
0
Ravindra Jadeja
20
3
41
3
2.05
0
0