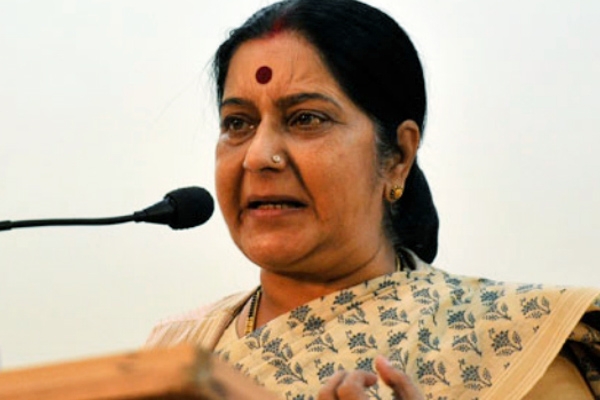 (Image source from: dnaindia.com)
To curb the incidents of Non-Resident Indian (NRI) husbands abandoning their wives after marriage, the External Affairs Minister Sushma Swaraj has announced that the administration will table a bill in the approaching winter session.
Talking to the media in Hyderabad, Swaraj said that the government has already launched an institutional mechanism to track such incidents and added that 25 passports of such NRI husbands have already been revoked by the MEA.
Related content: NCW Appeals MEA to Foil Ex Parte NRI Divorces
Replying to a query about NRI husbands abandoning their wives, Swaraj who was in Hyderabad to campaign for the Bharatiya Janata Party (BJP) in the imminent Telangana assembly elections said that through this bill the government aims to tackle such cases which have increased significantly over the years. 
The Supreme Court has recently sought a response from the Centre on a plea seeking obligatory arrest of NRIs who not only desert their wives but then likewise harass them for dowry.
A bench headed by Chief Justice Ranjan Gogoi and Justices S K Kaul and K Joseph issued directives to the Centre and said that the deserted women should be accorded legal, financial help and their estranged NRI husbands must be arrested once the FIR is filed.
A group of women who had allegedly been abandoned by their NRI husbands and endangered to dowry harassment moved to the apex court seeking reliefs plus the mandatory arrest of their estranged spouses and consular help in fighting cases in the foreign land, reported PTI.
Earlier in September, the Delhi High Court also expressed concern over this matter and sought the response of various ministries on it.
-Sowmya Sangam