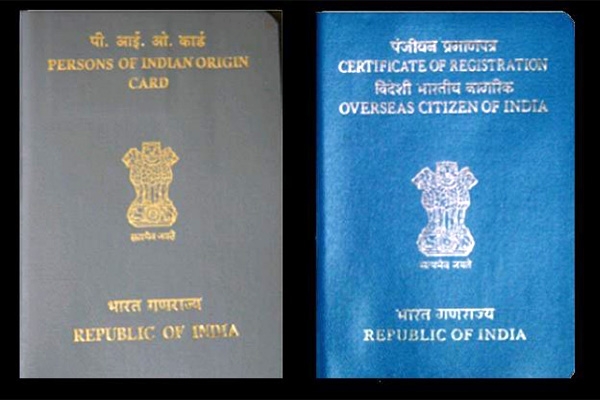 (Image source from: Conversion of PIO card into OCI – Differences at Indian Embassies })
The promise made by the Prime Minister of India at the Madison Square Garen to merge PIO and OCI cards to facilitate every Indian-origin person to enjoy a hassle free stay and other amenities in India, has filled positive hope in NRIs and the members of their families, but the latest developments regarding the conversion of 'Person of Indian Origin (PIO)' card to 'Overseas Citizenship of India (OCI)' at the Indian Embassies in various countries.
Actually the PIO card holders are supposed to convert their erstwhile 'PIO card' to machine friendly OCI card at a nominal fee. Though the PIO card holders are deemed to be a OCI card holder as per the Citizenship Amendment Bill, 2015, the paper (non-card type) of PIO is creating problems at the airports in India and at the Indian embassies.
Earlier the Ministry of Home Affairs issued an order to convert PIO cards into OCI cards within three months, but it later cancelled the order and extended the provision indefinitely. The issue confused the officials at embassies and the card holders abroad.
For better understanding, we shall have a look at various embassies of India:
The Indian embassy in Germany reportedly asked all the PIO card holders to convert before April 9, 2015. The Indian embassy in the UK stated this provision as optional and said the PIO cards are valid for life to visit India with an endorsement at the first immigration point of India.
The embassy in France initially issued an order saying that with effect from April 8 it is mandatory to replace PIO cards with OCI cards. But it has now modified this saying, "it has now been decided by the Ministry of Home Affairs that PIO will be valid beyond April 8 till further instructions, but PIO holders should apply for OCI cards in lieu of PIO cards." The Indian embassy in the US says applying for an OCI card in lieu of PIO card is optional till further instruction.
The government has promulgated an ordinance in the month of January to merge PIO and OCI citizenship, later the parliament of India has passed the same bill in the month of March. The act now guarantees hassle-free facilities for the persons of Indian origin.

-Kannamsai