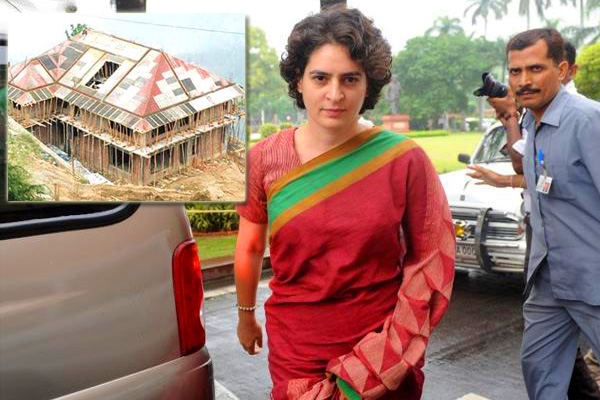 (Image source from: Priyanka Gandhi nostalgic with childhood memories in Shimla})
Priyanka Gandhi Vadra's Shimla land is in the news for all the wrong reasons. The Gandhi familly has an emotional attachment with Shimla, where the late Rajiv Gandhi and Sonia had enjoyed some romantic moments. All India Congress Committee president Sonia Gandhi had recently shared her best kept secret about Shimla with local politicians.
"Sonia Gandhi and Priyanka Gandhi Vadra have an emotional attachment to Chharabra, the place where the land in question lies. The Congress chief, during her recent Shimla visit from May 17 to 19 had told people close to her that she along with Rajiv had spent some time sitting on the grass at the same place when they had visited Shimla for the first time after marriage. The place became a favourite and they had decided to build a house there," a Shimla-based senior Congressman said.
"The Gandhis are fond of Shimla and the Himalayas. Sonia also shares a bond with the hills as she hails from a mountainous region," state Congress chief Sukhvinder Singh Sukhu.
"Priyanka and Rahul Gandhi used to play at the place where the former's bungalow is coming up now. They had also visited Chharabra and other parts of Shimla. The family had enjoyed their breakfast at Barog in 1980-81 (he does not remember the exact date). The children were very playful and had demanded veg sandwiches and cutlets," recollects former Himachal Pradesh Tourism Development Corporation manager Madhu Sudan.
"Rajiv was fond of Shimla and used to enjoy skating at the famous skating rink. As per my memory, he had visited the city more than 15 times. He stayed here for over a week in 1971 when Congress organised a party meet," senior journalist PC Lohumi said.
By Premji