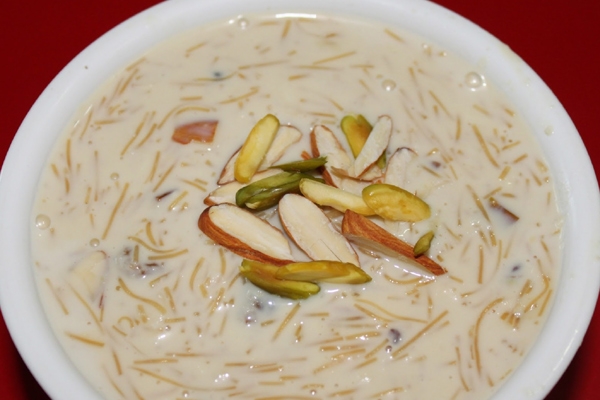 The festival of Eid is going to be celebrated soon! Seviyan is the special dessert for this occasion. Here is the preparation method of  this easy to make and delicious dessert recipe.
Ingredients:
Vermicelli: 1 1/4 cups
Clarified butter: 1/2 cup
Cloves: 10
Green cardamoms seeds: 11
Milk: 6 cups
Brown sugar: 3/4 cup
Almonds: 1/2 cup,
Chopped raisins: 1/4 cup
Rose water: 3 teaspoons
Method:
Take a heavy bottom pan and heat the clarified butter.
Add the green cardamoms and cloves.
Saute well for 2 to 3 minutes to release the aromatic oils into the clarified butter.
Put the vermicelli and fry it for 2 to 3 minutes without breaking it.
Now, add the milk and bring to a boil.
While the milk is simmering, add the brown sugar stirring gently so that it dissolves.
Now, cook for 15 to 20 minutes till the vermicelli becomes soft.
Mix the almonds and raisins and stir for another 5 minutes.
Add the rose water. Stir till the mixture is thick.
Remove from heat and keep aside to cool.
Chill before serving.
Also Read: Yummy Kesar Phirni!
Nandini