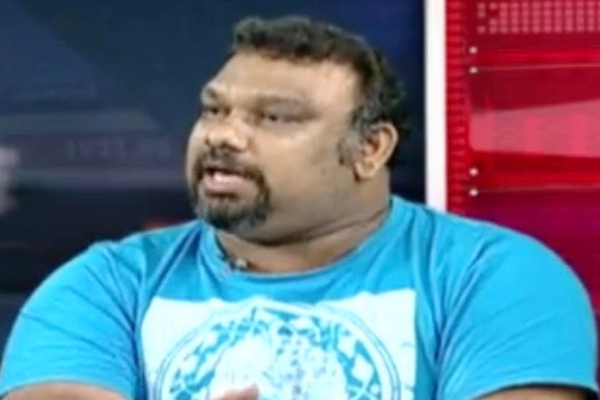 (Image source from: Voiceinn.com)
Film critic Kathi Mahesh has always been in hunt for controversial ways to turn popular and make it big. His attempts as director have been disastrous after which he has been knocked by Bigg Boss. This brought him immense craze and to be in news he targeted Powerstar Pawan Kalyan. Mahesh Kathi made many sensational comments on Pawan Kalyan which irked his fans. Though Pawan Kalyan preferred to stay calm and continue with his work, Pawan's fans took social media to criticise Mahesh Kathi for his unusual comments.
Mahesh Kathi during his recent debate on Maha News interacted with director Vivek. The ace director asked Mahesh Kathi to say something about his mother in the open debate after which the film critic was left puzzled. Without uttering a word, Mahesh Kathi stayed calm and Vivek attacked him saying "You can criticise anyone about their personal lives but you don't wish to speak atleast about your mother and your personal things. How fair is this?"". Losing his cool, Mahesh Kathi threw the mic and walked out of the open debate even after he has been asked to stay back.
(Video Source: Mahaa News)
On the other side, Mahesh Kathi arranged a special presmeet in Press Club last morning where he questioned actress Poonam Kaur about her relationship with Pawan Kalyan. Mahesh Kathi has been attacked by Pawan's fans near Press Club and things turned worse. The cops worked hard to bring back things under their control. Mahesh Kathi has even been followed by Pawan's fans when he was on his way to tv9. The critic has been badly criticising Pawan Kalyan to be in news and shot fame.