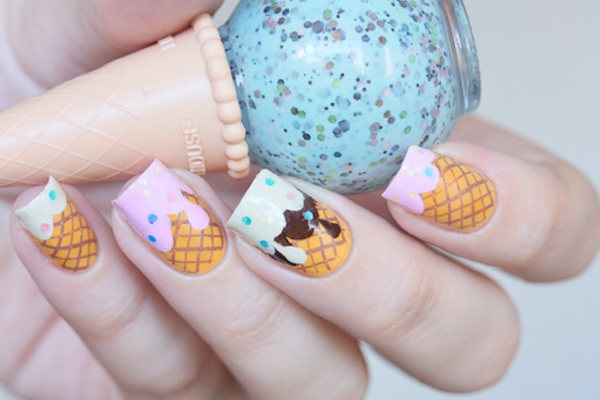 Most of you like eating ice-cream in this scorching sun, but ever you think about your nails having ice- cream coating? Girls! Now add a new fashion style in your list - Ice cream nails. It is the latest nail art,  painting ice cream on your nails.
Here are few tips on how to get it:
First you need to pick up at least five nail colors. Opt bright summery polishes like yellow, red, pink and orange.
Begin with a base coat of your choice. You could go with colors like pink or brown.
Then use the white color polish on the tip of the nail with a paint brush to show ice cream melting. Try to design the tip with white nail polish and make it look like the ice is melting.
Afterwards, use the other bright colors like red, yellow and orange to make small dots on the white portion that denotes sprinkles. You can use a dotting tool to make the process simpler. Use all the colors equally and repeat the process.
You can also select one finger nail and make an ice cream on the chosen nail. The others could be left simple with just the base coat.
You can also go with another option to draw the entire ice cream on the nail. Paint a base coat, take a paint brush and design the entire ice cream on the nail. It includes the cone, cherry, cream and sprinkles.
You can also write simple slogans on your nails to show your love for ice creams.
Also Read: Tips to take care of your nails!
Nandini