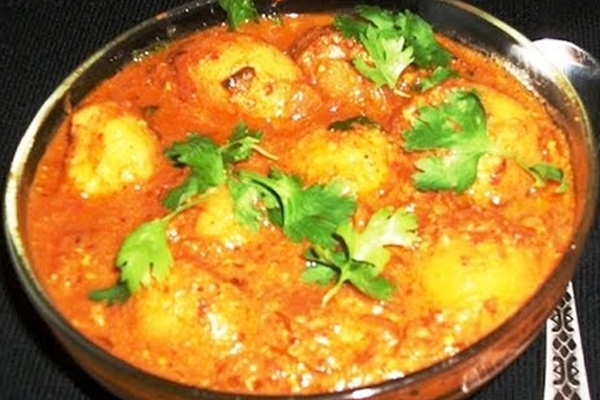 Are you fond of eating potatoes? Here is one of the popular potato recipe! The Kashmiri dum aloo recipe has potatoes in a spicy gravy. The dish goes best with steamed rice, naan and parathas.
Lets try this special Kashmiri dum aloo recipe. It is an easy recipe that can be made in less than an hour.
Ingredients:
Small potatoes: 900 gm
Water: 3/4 cup
Ghee or oil for deep frying
Ghee: 1 cup
1 large onion (finely chopped)
Tomato puree: 4 tablespoons
Curd:140 ml
Hot water: 4 tablespoons
1 green pepper (sliced, seeds removed)
Garam masala powder: 1 teaspoon
4 cloves of garlic
bay leaves: 4
6 black peppercorns
4 green cardamoms
1 brown cardamom
1 cinnamon stick
Salt to taste
Paste:
One large onion (chopped)
5 Garlic
2 tablespoons ginger
Black peppercorns
1 teaspoon poppy seeds
1 tablespoon coriander seeds
1 teaspoon cumin seeds
2 dry red chillies
1 teaspoon turmeric powder
Ground mace
Ground nutmeg
Method:
Scrape the potatoes, prick all over with a fork and soak in the water with salt for a couple of hours.
Dry the potatoes on a cloth and heat the ghee/oil.
Deep fry the potatoes until it becomes golden brown.
Drain and set aside.
Heat the ghee in a flameproof pan and fry onions with all the spices.
Grind the paste ingredients to a fairly smooth paste and stir into the onions.
Cook for about 10 minutes, stir in the tomato puree, curd and salt.
Add the potatoes and hot water and stir over low heat for five minutes.
Sprinkle the dum aloo with pepper and garam masala and cook for few minutes.
Your dish is ready.
Also Read: Healthy Brown Rice Pulao recipe!
Nandini