AngularJS Online Training and Placement Assistance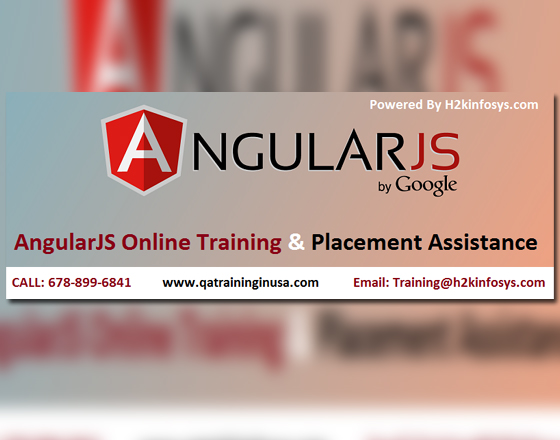 Important Safety Tips :
View properties in person, and always take someone with you. Never send or wire money to landlords. Classifieds does not offer any transaction or payment services. Stay safe - read our safety tips.
Description
Are you looking for better job opportunities in IT? Get instant successes in your career with our AngularJS online training by world class training provider H2kinfosysís qatraininginusa.com which enables you with the best online training in software training with hands-on experienced IT professionals as instructors.

What is AngularJS?

AngularJS is a structural framework for dynamic web apps. It lets you use HTML as your template language and lets you extend HTML's syntax to express your application's components clearly and succinctly. Angular's data binding and dependency injection eliminate much of the code you currently have to write. And it all happens within the browser, making it an ideal partner with any server technology.

We teach AngularJS expressions, filters, scopes, implementation Ajax in AngularJS applications, AngularJS directives, Angular Forms, etc during the training program.

Feature of H2kinfosys:

Working professionals as course trainers
Live seminars by AngularJS expertise and consultants
Advanced features in course curriculum
Virtual driven labs to practice exercises
Get access to all modules of AngularJS
Interaction with instructors through webinars
One to one personalized training for effective learning
Limited seats for each batch
Book your demo class for immediate
Resume building
Mock interview sessions
Contact:

http://www.qatraininginusa.com/courses/angularjs-t...

Call: 678-899-6841

Email: training@h2kinfosys.com.